Named for York County's historic Ebenezer settlement, Ebenezer Park is a 26-acre park on the southern side of Lake Wylie.  Constructed in the 1980s, Ebenezer Park has been a popular waterfront destination for generations of families.
A 40-year-old park needed a renovation
Over time parks age, the population grows, and trends change so renovations are necessary. Ebenezer Park was over 40 years old, and York County saw an opportunity to breathe fresh life into the park by improving and expanding its amenities.
Typical of older recreation sites, additions and renovations made to Ebenezer Park had been constructed in phases so many of the elements had a "piecemeal" layout. Fishing is a popular activity on Lake Wylie, but without a pier, people were fishing from a bio-berm that was installed to help with shoreline erosion. When it rained, water run-off went directly from the parking lot into the swimming area. York County also saw the need for more picnic areas which required more park space. But there was no more land available.
Design ideas can come from anywhere.
Before ADC was awarded the project, Fred Guthier, ADC's landscape architecture project manager in the Greenville office, shared his idea of a circular pier with the county. He said he was immediately drawn to the existing curvature of Ebenezer's beach. The county wanted the new design to include a fishing pier, more picnic space, an amphitheater, and a safer area for swimmers so Guthier drew inspiration from a site he remembered in his past.
"I always thought Harbour Town at Sea Pines was a really cool design," says Guthier. "As a kid and before I moved to South Carolina, I remember seeing the marina on TV during the golf tournament. That waterfront, circular design has always stuck with me."
He added that he did not intend to replicate Robert Marvin's (the father of South Carolina landscape architecture) design, but there was an influence.
Once ADC was awarded the project, Guthier spent time listening to the client's needs and asking questions about their priorities. "Understanding the project and the people it serves is the first and most important step in designing a successful park," says Guthier.
A great park gets better with a new design
Re-arranging the park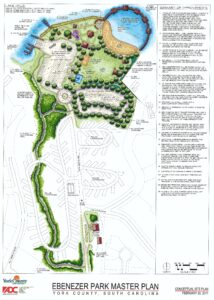 to improve its overall flow and connectivity meant adding trails to connect campsites and parking to the beach, playground and restrooms. The playground was moved so parents can take advantage of the lake views while children play. A round-about to reduce traffic conflicts between day visitors and campers replaced the two-lane road into the park.
The parking lot was relocated away from the lake allowing room for sports courts and an open lawn. A series of rain gardens were added to purify the water before it discharges into the lake. A kayak/canoe launch was included along the shoreline, and additional boat slips were added. The beach was expanded, and a 10,000 square-foot circular pier was designed with covered shelters and double-sided swings for fishing and picnicking.
"The County, my team and everybody involved in the design was really excited about what we created," said Guthier.
Closing is the hardest part
The most challenging part of a park renovation is not reconfiguring the many amenities. Instead, it is coordinating the best time to close the park.
"Whether it be a passive or active park, there are patrons that use the park every day and closing it for construction interrupts their routine," says Guthier.
Ebenezer Park sees 50,000 visitors between Memorial Day and Labor Day so the plan was for construction to begin during the winter when fewer people visit. But the weather did not cooperate, causing delays. And then COVID-19 hit so the park's opening was pushed back again.
An opening worth waiting for!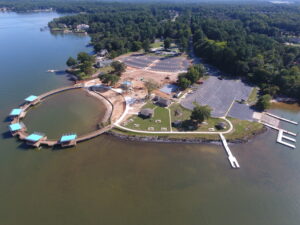 Ebenezer Park's Re-Grand Opening is scheduled for May 1st.  The celebration includes a ribbon cutting, music, live entertainment, and hundreds of visitors eager to enjoy the park's new and improved amenities.
"Never in my wildest dreams did I think this would be a reality and when I walked out on the pier yesterday afternoon it really sunk in on how awesome the finished product will be and I can hardly contain myself.

These improvements will be talked about for years to come and there will be many families that have special moments out here that will never fade. Our community will be forever grateful!" – Pat Morrison, Park Superintendent, Ebenezer Park